Support Youngstown Steel Valley on ruckscience.com
Exciting news out of Youngstown! The Youngstown Steel Valley Rugby Club has entered a partnership with Ruck Science and we couldn't be prouder to be their nutrition sponsor for the 2018 season and beyond! Are you team member or supporter of the YSV Rugby? You have the opportunity to support the team with every purchase you make at Ruck Science using the code STEELVALLEY at checkout. 
About The Youngstown Steel Valley Rugby Club
Youngstown first became involved in Rugby in the spring of 1973 with the help of Steve Bolton and John Rowland. Bolton was a player for the University of Virginia and Rowland from Williams College. Youngstown started out with a squad of five members. Through recruiting their numbers eventually grew enough to host an A, B, and C squads.
Youngstown R.F.C. achieved 112 victories, 17 losses, and 1 tie in their first five seasons. Those numbers include the record of all three squads. In the spring of 1981, Youngstown was selected to go to the Midwest Rugby Tournament. They beat the host, Milwaukee, 14-0 and lost to the champions, Indianapolis, 8-4. In the spring of 1982, Youngstown was again invited to the Midwest Rugby Tournament. They lost to the champions, Chicago, 32-4.
In the early years Youngstown hosted teams from South Africa, England, Ireland, and Whales. Mark Chine and Glen Civak were the team captains at the time. They would go on to form the Steel Valley Rugby Club after Youngstown Rugby Football Club was disbanded in the mid 1980's by the Ohio Rugby Union.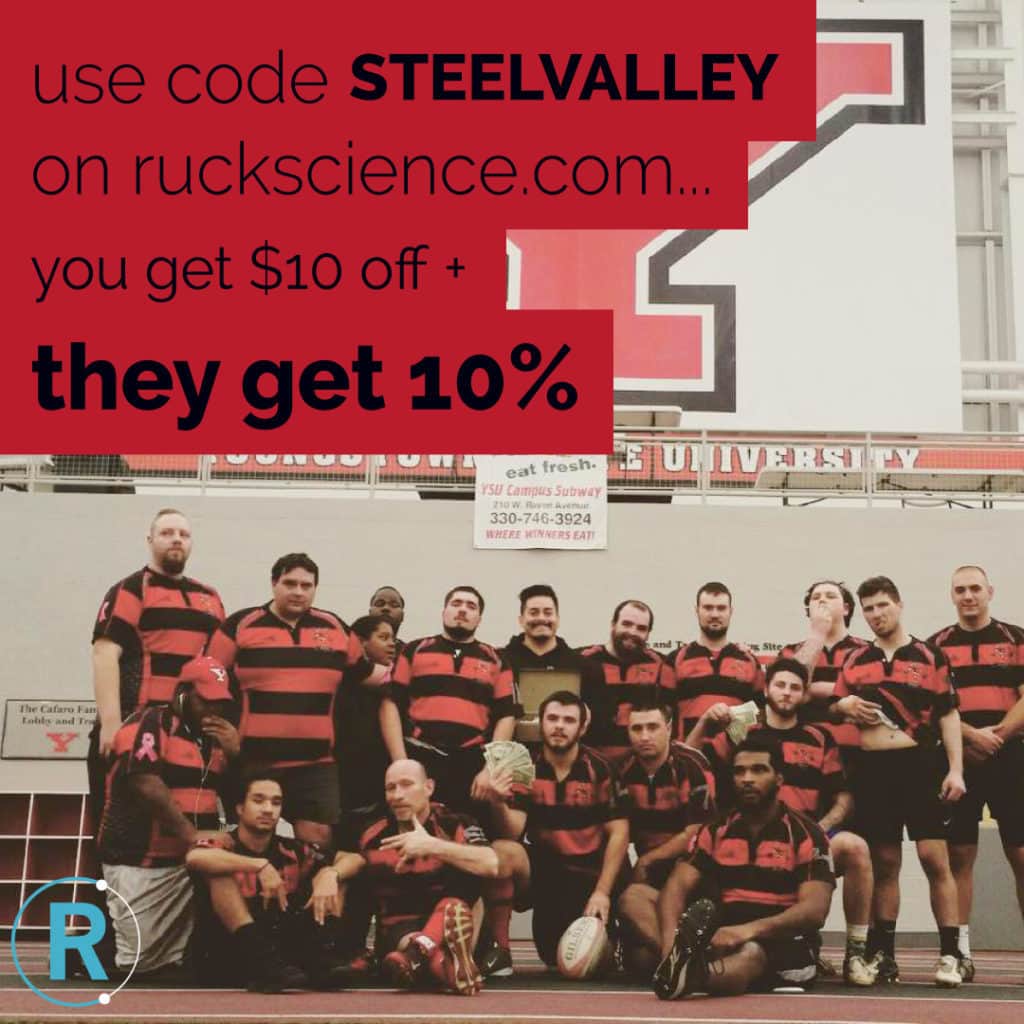 Check Out YSV's Distraction Skills!
Get Connected
We're pumped to have the YSV Rugby Club on board for sponsorship from Ruck Science. If you're a  member of the club, please keep an eye out at your next training sessions for some samples of the most popular Ruck Science supplements.
If you want to support Youngstown Steel Rugby Club, you can get started with three easy steps!
Sign up for an account on our

website

for $10 worth of credits towards your first order and lifetime access to all our

training programs

.

Follow our

Facebook page

where there are monthly announcements about free samples and other promotions.

Use the coupon code

STEELVALLEY

and you'll get:

$10 off your first purchase

Linked to our club for life so a portion of all your orders is donated to the club.
Find YSV Rugby Online