New Partnership – Milwaukee Scylla Women's Rugby
Check out Ruck Science's latest partnership with the 2017 National Women's D2 Champions, the Milwaukee Scylla! It's an honor to partner with these amazing women and provide them with quality nutrition AND a sponsorship that earns them money each month through purchases made on ruckscience.com. Want to support the Scylla? Enter MILWAUKEESCYLLA at checkout and we'll give 10% of your purchase back to the club. It's that easy!
About Milwaukee Scylla
The Scylla are located in Milwaukee, WI and we are the 2017 National Women's D2 Champions. Their coach was also named USA Rugby's Senior Women's Coach of the Year. The Scylla have the coaching, administration, and desire to return to the National Championship and put Milwaukee on the map as a great place for rugby. The aim is to build on last year's National Championship by growing the roster while also broadening the club's sponsorship base.
Their next goal is to provide new and continuing members a way to play competitive rugby across the US while keeping training and travelling costs to a minimum. This goal will attract more members of all walks of life and provide the ability for the Scylla to grow the great sport of rugby! #growthegame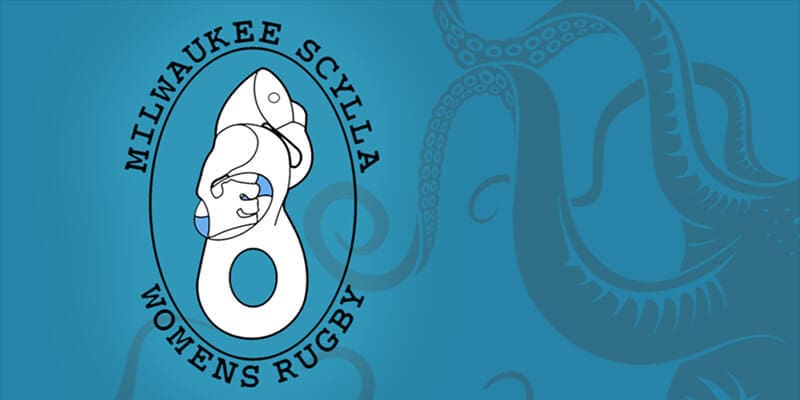 Club History
The club was founded in 2001 and has been in the top 4 of the Midwest in almost every year of our existence. Winning the National Championship in 2017 was their biggest accomplishment to date. In the National Championship run, they coined the term "Scyllabrate" for when they head back to Brewskis, their amazing sponsor bar.
Something nobody knows is that Scylla (pronounced Sill-ah) is that in Greek mythology Scylla, along with the whirlpool Charybdis, guarded both sides of the Straight of Messina and sailors who traversed the straight would have to choose between risking their lives with one or the other.
Charybdis was a whirlpool, but Scylla was a bonafide monster. According to Greek mythology Scylla had six ferocious heads, each with three rows of sharp teeth, sitting on six very long necks. Her body was made out of several growling dogs and twelve feet or tentacles (depending on who you ask). Her necks would extend out to passing ships and grab sailors, crushing them against the rocks she sat on before devouring them. The team likes to think they live up to the badass Scylla name!
Community Involvement
The Scylla support local high school and college teams by attending practices, games, tournaments, throughout the year. However, their biggest volunteer event of the year an event called Tri My Best, which is a Triathlon that focuses on children and young adults with developmental disabilities. The team is very involved in Tri My Best and partner with the athletes to motivate them to do their best through the course. It is amazing to see the joy that the children get from realizing their strengths and growing one ability at a time. The club is proud to be a part of this yearly event.
The Scylla In Action
Ready to Support Milwaukee Syclla?
All you only need to use the club's coupon code once and a percentage of all future orders will be given to the Syclla. If you're interested in giving our products a shot, here's the best way to get started:
Sign up for an account on our website for $10 credit.
Use code MILWAUKEESYCLLA on our /cart/ page for $10 off your first order.
Use the code once and 10% of all your orders will be given directly to the club.
It doesn't matter whether you buy supplements, stacks or car seat covers, the club gets 10% of everything you order.
Get Connected with the Scylla