Texas A&M Women's Rugby Confirm Nutrition Supplier
The Ruck Science sponsorship team, fresh off the new that we've recently sponsored our 400th amateur club, is pleased to announce that we have a new partnership with the Texas A&M Women's Rugby Club. This agreement means the Aggies will have an official nutrition supplier for years to come. Please read on to learn more about the partnership, but also more about the Texas A&M Women's Rugby Club.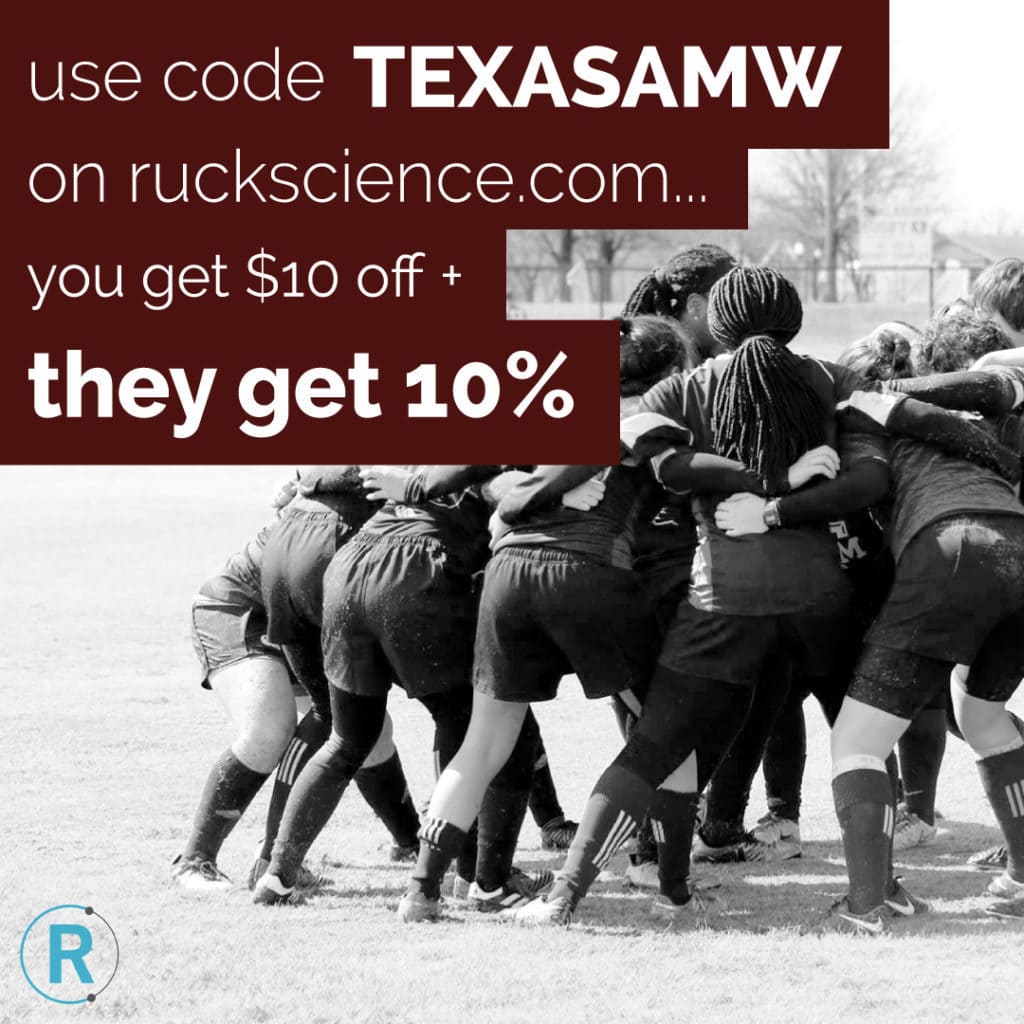 A Little About the Aggies
The Aggies are a competitive college rugby club team in the state of Texas. Their program started in 1974 and was reinvigorated in 2011! Some of their more notable accomplishments since our "rebirth" include:
Rugby tour in England 2010/2011
Ranked 8th in the nation 2011/2012
15s Nationals Spring 2013, 2014, 2015
Chancellor's Cup Fall 2015; Finishing 1st
A tournament hosted for all Texas A&M system colleges to compete together
Atlanta 7s Spring 2016
7s Nationals Spring 2016; Finishing 11th in the nation for 7s
15s Nationals Fall 2016; Finishing 15th in the nation
The club prides itself in being all-inclusive, friendly, and they consider themselves to be more of a family than a team. One thing is for sure, they love the game of rugby and hope you do/will too! If you're not sure if you'd like rugby, the club's management team always recommend coming to a couple of practices to learn the basics and from there, they promise you'll be hooked!
Watch the team in action
Get Involved
Are you a supporter or team member of the TAMWRC? You can help them earn 10% of your purchase back just by using the code TEXASAMW on the /cart/ page of our checkout. You'll also get $10 off your first ruckscience.com order. All of our sponsored clubs are listed on the clubs page, so if you support a different rugby club, you'll find their specific coupon code listed there as well. You can use that code on any of our supplements or supplement stacks. 
Contact the Aggies