Bobbie Kolarik's optic nerve impact
I feel like the rugby bruise everyone wants is the black eye; it's the holy grail of bruises because it looks bomb, but really doesn't leave a lasting impact…at least, that's what I thought.
Situation
I was in my second year playing at a small liberal arts school in western PA known as Allegheny College. We were kinda the little fish in a big pond playing schools in our division that had 15,000 plus students while we only pooled from 2,100 students. We were playing Indiana university of Pennsylvania, a much bigger school who usually dominated us by an embarrassing score, but we were sticking with them that day.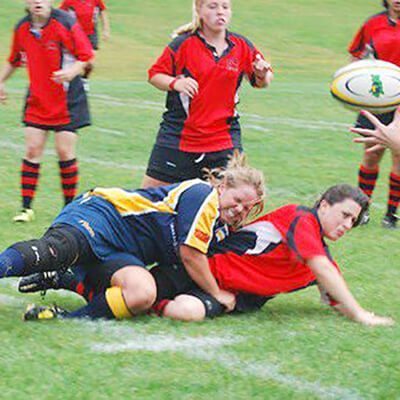 BOBBIE KOLARIK
Position: N/A
Club: Allegheny College
Injury: Optic Nerve Impact
How It Happened
Our coach had just gone over the "laying the egg" technique in practice for setting the ball. I caught the ball off a nice off load and had a pretty decent run down the sideline. As I was tackled, I thought if I "lay the egg" here, my team would be in a great position to score. However that day rucks were coming together pretty fast and I did not anticipate that…I went to "lay the egg," but the ruck formed right over me as my face was to the other team. The opposition went to rake the ball back and ended up kicking me square in the right eye. I stayed in the game, and as it progressed, it my vision became overcome with black dots. It was pretty sunny out and I really didn't notice.
Medical Care
My eye was kinda like this for a couple of days and I had a small black eye with some swelling, but it wasn't crazy. I ended up going to the ER and received a CT and dye in my eye to check for debris and scratches. The ER doc said my retina and cornea looked good, but wanted me to follow up with the ophthalmologist. The next day, as the ophthalmologist was looking at me eye, he excused himself and came back minutes later with 2 more doctors as he wanted another opinion (I admit I was a little worried at this point, especially because the ER doc said I was good!!). They decided to send me back to the ER for an emergent MRI with contrast and dye.
Second Assessment
I ended up getting another emergent appointment in Pittsburgh with an eye specialist who specializes in sudden trauma with visionary loss. The other great thing about all this is that I had failed to tell my parents and all the appointments prior to this specialist were out of network (Thank you rugby insurance!!). Let's just say my parents were not only concerned, but also not too happy with my "you are on your own now and are an adult" medical decisions.
Final Diagnosis
After 8 hours of weird eye testing, the ophthalmologist chalked it up to "my optic nerve taking all the impact from the blow and swelling up," causing the visual field loss and eye disturbances. She said I was super lucky because the other case she has seen has resulted in retinal detachment.
More Rugby
My team made playoffs that year and I unfortunately had to sit out due to the possibility of losing my eye. It has been 6 years since the incident and I no longer "lay the egg" anymore. I also have a small blind spot now in my right eye! Whenever I have teammates that say I hope I get a black eye this game, I definitely let this story fly.
AND of course, I am still playing rugby, almost 8 years strong…because after all, it's just an eye….right?
By Bobbie Kolarik