Saratoga Rugby Club joins our sponsorship program
We are very excited to welcome Saratoga Rugby Club into the ever-growing Ruck Science sponsorship program. They are now eligible to start receiving funding as part of our grassroots sponsorship program which, we hope, will eventually include every amateur rugby club in the USA.
About sponsorship  
Traditional arrangements between rugby clubs and sponsors are often tricky, and the teams don't always get what they really need – money! However, partnering with Ruck Science is easy, and the club has to do very little to receive their funding. That's good news for all of the clubs we support, as very few have the manpower or resources to dedicate to fundraising.
To obtain funding, all Saratoga Rugby Club needs to do is use the code SARATOGARUGBY at check out and, in return, they will receive 10% of all orders placed. Easy!
This arrangement means that Saratoga Rugby Club could get as much as $1000 or more per annum to use toward their running costs.
Getting started
If you want to support Saratoga Rugby Club, you can get started with three easy steps!
Sign up for an account on our website for $10 worth of credits towards your first order and lifetime access to all our training programs.
Follow our Facebook page where there are monthly announcements about free samples and other promotions.
Use the coupon code 

SARATOGARUGBY

 and you'll get:

$10 off your first purchase
Linked to our club for life so they get 10% of every order you place.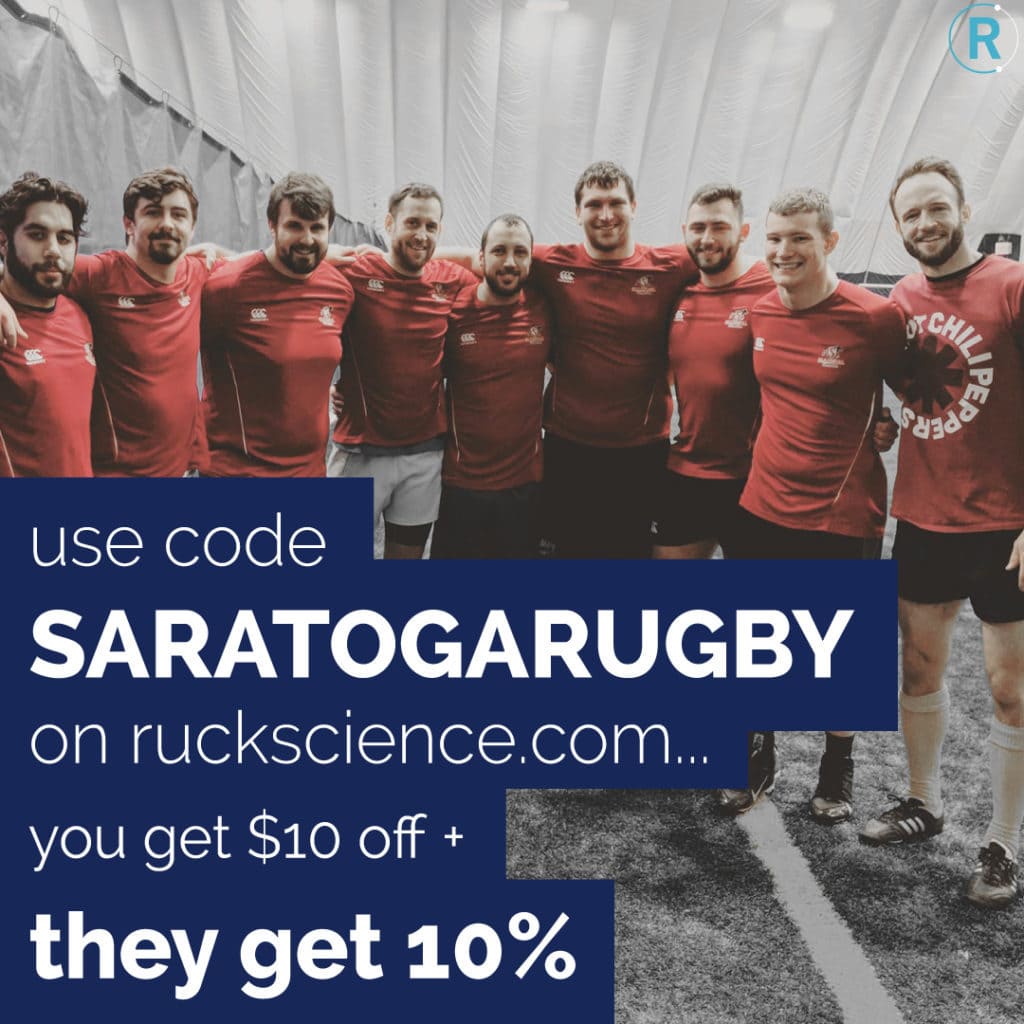 About Saratoga Rugby Club
Saratoga Rugby Club's main purpose is to provide world-class rugby in Saratoga Springs, NY. Modeled on quality, and with a vision for the future, the team is leading Saratoga in sporting excellence.
Saratoga Rugby Club was initially Saratoga Stampede, and was founded in 2005 as a social organization by a few good men. In 2012, under the direction of a new board, the club re-emerged as a competitive program. In just two years, the Stampede moved up from D4 to D3 and finished in the top four in the country.
In 2014 the club moved away from the old model and was re-branded as Saratoga Rugby Club. Between 2015-2016 the club moved up to D2 and made their first playoffs in 2015!
Over the last four years, Saratoga Rugby Club has not only taken the initiative to invest in foreign player/coaches, but has also sent players on scholarship to play Scotland and Australia.
Some of Saratoga Rugby Club's players are currently from/playing in South Africa, New Zealand, Ireland, Scotland, England, France, Hong Kong and Australia.
Saratoga have a number of teams:
Premier
Youth
High school
Collegiate
Classics (over 35, not over the hill!)
Saratoga Rugby Club not only hosts some of the best events in the country, but also has one of the finest grounds. The future is bright for SRC, and their new partnership with Ruck Science will only help them continue onward and upward!
Video
Check out this video to see Saratoga in action against Essex last year.