Nicole Fisch's fractured thumb
Background
I joined Amoskeag in the Spring of 2016. When we finally got to playing our first match in the first weekend of April, it was cold, raining, and we were on a less than well maintained turf field.
Injury
About 15 minutes into the match I went into a tackle and when I came out my right thumb was hurting and I couldn't use it very well. I scooted towards the sideline, got a teammate to thrown on a quick taping job, threw back a few Advil, and kept playing. At some point my hair tie fell out and due to decreased dexterity, had to ask a teammate to put it back up for me.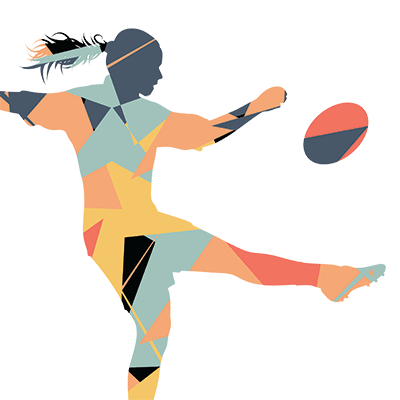 NICOLE FISCH
Position: Flyhalf
Club: Amoskeag
Injury: Fractured Thumb
Reaction
Everyone was pretty concerned, but I managed to continue playing to the end of the match and was able to maintain almost peak performance. We ended up losing the match which was a huge bummer, but all things considered, we were pretty happy for it being our first match of the season.
Hospital
At the post match social (and after some adrenaline wore off), I started to realize that maybe I needed to go get an Xray. I went to an urgent care and before the physician assistant could even say anything, I knew it was broken from the look of the Xray. Turns out I fractured my thumb, but fortunately it was minimally displaced.
Immobilization
I got casted at my follow-up with orthopedics and since it's illegal to play rugby with a hard cast on, I found myself on the sideline for most of the season. What made things worse is that most of my preferred lifts at the gym were difficult or impossible to perform with a bulky cast on my hand. I continued to run with my team and, to my coach's dismay, probably got into more things than I should have.
Cast Off
When I got my cast off, my orthopedic doctor highly recommended not yet going back to rugby and giving it a bit more time to allow for more complete healing. However, to me this news meant that I had been given the green light, and the New England Rugby Football Union (NERFU) Cup was that coming weekend and there was no way I was going to miss my first opportunity to play in that competition.
Returning To Rugby
I played in the very first match I could and Amoskeag came away from the NERFU Cup with 1st place and sealed the deal on moving up from Division 3 to Division 2 in the NERFU region's women's club competitions. I'm still playing with Amoskeag today and was actually newly elected as the team's back's captain for this season. We're having a great season so far and we actually will be playing the team that we had been playing when I broke my thumb in two weeks and then again 2 weeks following that. My thumb is as good as ever, however, that has not stopped me from breaking other "less essential" fingers, like my pinky, over and over.
By Nicole Fisch