Samantha Reeves' broken leg in 5 places
Growing up, I played every sport I could fit into my schedule. Never once growing up do I even remember hearing about rugby and I wish I would have found it sooner. I stopped playing softball and volleyball after junior college. I went off to Kutztown and really wanted to focus on my courses and just take a break from the constantly busy life of being a student athlete.
That lasted one semester when I realized focusing on school is boring and not having a teammates around you all the time is pretty depressing. So I sent an email to the Kutztown women's rugby coach as well as a local roller derby club to try something new. Rugby got back to me first and he signed his email with a "cheers" and right then I knew "this is going to be amazing".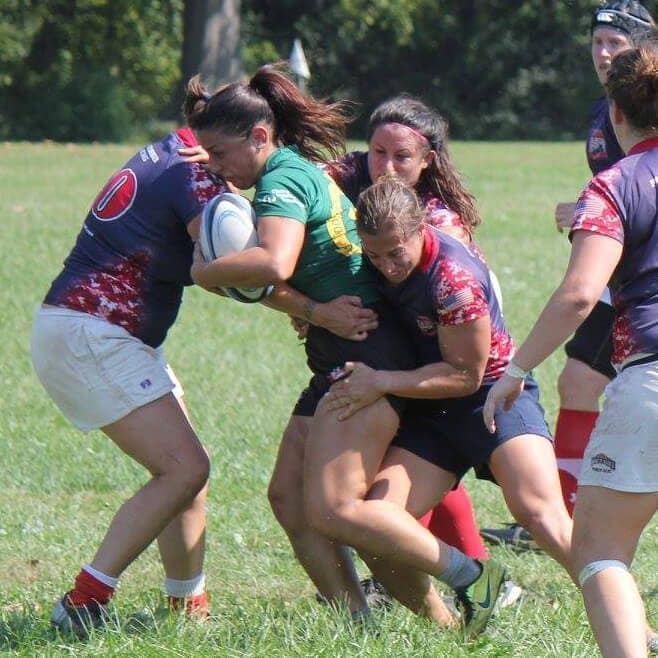 SAMANTHA REEVES
Position: Prop (in 7s)
Club: Phoenixville White Horse
Injury: Broken Leg in 5 Places
Falling In Love
And just like every other great love, it was terrifying. I fell hard and fast, jumped in with both feet have have never looked back. I will always say finding rugby has been one of the greatest things that has ever happened to me.
After my first seasons with Kutztown it was time to go home for the summer. I had no idea what I would do without rugby for the next couple months off and knew I wanted to continue improving as a player to come back stronger. So a friend of mine set me up with her new local women's team, Phoenixville White Horse Women's Rugby Club, and I committed for summer 7s (which… I had no idea what 7s rugby even meant).
First Experience
Our first tournament was so much fun and I couldn't wait to get a run in the next weekend. So we made the hike up to Harrisburg, about 2hours away from my house for their annual 7s tournament. We played all day, I remember it being a little hot, but the sun was out and the weather was absolutely perfect. I played for our team and any other team that needed an extra body. In one of the later games I took a knee to the head ran out for a second and wanted to go back in immediately.
How It Happened
There were only 3mins left in my last game of the day but I didn't care so I ran back on the field. I received the kick off and thought I found the perfect gap. It closed quicker than expected and from what I'm told one girl hit me from the front and another came in from the side and I think the entire tournament heard the break, it sounded like a 2×4 breaking.
There's a quick clip of the video, you hear the snap, me scream twice, a whistle (my screaming and the whistle sound VERY similar), and a teammate from the sideline screaming "trainer, trainer, trainer, EVERYBODY CHILL". I wasn't too sure what happened but the noise was loud, my leg felt weird and I wanted my mom.
Pain Management
I ripped up some grass and tried to distract myself from any pain. They had some trainers come out on the field, but the ambulance scheduled to be at the field had just taken another girl to the hospital for a broken rib. So they splinted my up with some wood and some kind of binding, got me on a stretcher and into the back of a pick up truck to wait for the ambulance to come back. EVERY SINGLE bump, touch, movement, I felt my bones shifting in my leg. A trainer came to hop into the truck and jumped directly onto my leg kinda jamming it up. She apologized, we're cool.
Hospital
When the ambulance finally came and I got to the hospital, I told the nurses I think I might have sprained my ankle, and that I'm sure it was no big deal. They were so busy I was put in some random room, seemed like a closet and waited for an X-Ray.
They brought my X-Ray back and couldn't believe that it was a sports injury. The doctor was convinced I had been in a horrific car accident. My tibia was broken in two places and the bone surrounded by the breaks was segmented out. My fibula was broken in two places and the piece surrounded by the breaks was split in half. So I DID NOT sprain my ankle but I broke my leg in five places. Worse news… I was going to miss the Harrisburg 7s Social.
Theater
I was rushed into surgery where they placed a rod straight through my tibia to piece the bone back together and screwed it in at the knee and ankle. A week later when I had a follow up with my local doctor he told me I wouldn't be playing anything, especially a contact sport, for at least a year and a half. I was crushed.
Recovery Time
I was laid up on my couch for about two weeks in the worst pain I have ever been in. Not being able to play was mentally and physically crushing. I went to every training session, game, practice, everything the support I got from my teammates/ sisters through out my recovery was AMAZING. I couldn't have asked for a better group of ladies to be around.
Returning To Rugby
I worked hard to get back as soon as possible. 9months later I played my first game. 11 months after my injury I played in the Collegiate Rugby Championship with Kutztown in Philadelphia and I haven't stopped. Now I'm playing for Doylestown Women's rugby club, I'll play as long as I possibly can <3 #WithYou
By Samantha Reeves