Shannon McNamara's destroyed knee
The Minnesota Valkyries Division I Rugby Club were on their way to their last game of their regular season in April of 2017. We were playing an away game in Detroit, Michigan. We had spent months preparing for this game, prepping for our toughest opponent.
We came into this game with low numbers and some fresh feet. Throughout the game, Detroit handed out a beating. Knocking out four of our players due to an array of injuries. We ended the game playing down a couple of girls, to their 15 fresh legs. We still managed to score a try against them, playing down girls with a huge disadvantage. This would be my first and only injury during my entire rugby career.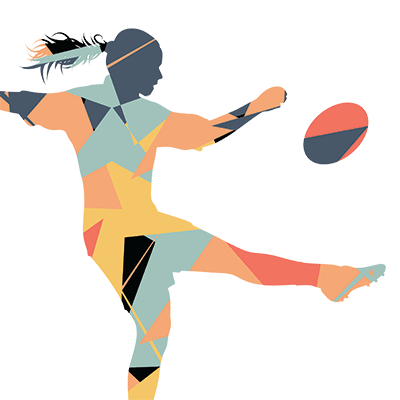 SHANNON MCNAMARA
Position: Lock
Club: Minnesota Valkyries
Injury: Destroyed Knee
The Setup
For the majority of my rugby career both in college and with the Minnesota Valkyries I played at the Wing position. This game would be my first game in a new position, I would be Locking. The game started off fast and intense, as always with Detroit. We were holding our ground and hitting them hard every chance we got. About 30 minutes into the match, we were kicking off to Detroit.
How It Happened
Their 8, one of their best players, a beast of a player; fast, big and strong, was the one to catch the kickoff. We came up strong, together but she broke our defensive line which put me and a fellow teammate on the chase. I caught up to her first, at mid-field, to make the tackle. I flew at her and caught her up so she couldn't offload the ball. On our way down to the ground, I heard a crack.
The moment I hit the ground my knee popped, creating an immense amount of pain. I lay on the ground yelling in pain, calling for the trainer. The trainer came out and as I shouted "It's my right knee" he started looking at it. Needless to say, I didn't trust his opinion. I walked off the field in much pain and spent the rest of the match icing my knee on the sideline.
Getting Home
Since it was an away game and I didn't have a flight until the next morning, I spent the next day and a half traveling back to Minnesota, walking on my leg, without any painkillers. A week later, after a series of MRI's and XRays, I find out I completely tore my ACL and partially tore my Medial Meniscus along with some significant bone bruising and a strain to my MCL, the good news was I didn't break any bones.
Current Recovery
I then spent a month healing my knee and bringing the swelling down before I could even have surgery. I had to undergo ACL reconstructive surgery with a Hamstring graft option. I am currently 5 months out of the tear, 4 months out of surgery. I still have another 4 months of Physical Therapy before I am ready to step back out on the pitch. Today, my huge milestone was being able to run for 10 minutes pain-free.
By Shannon McNamara