Want to download the eBook? Let us know where to send it.
This is a free resource, all you have to do is login.
Registering gives you access to all of our free resources. Go on. You know you want to!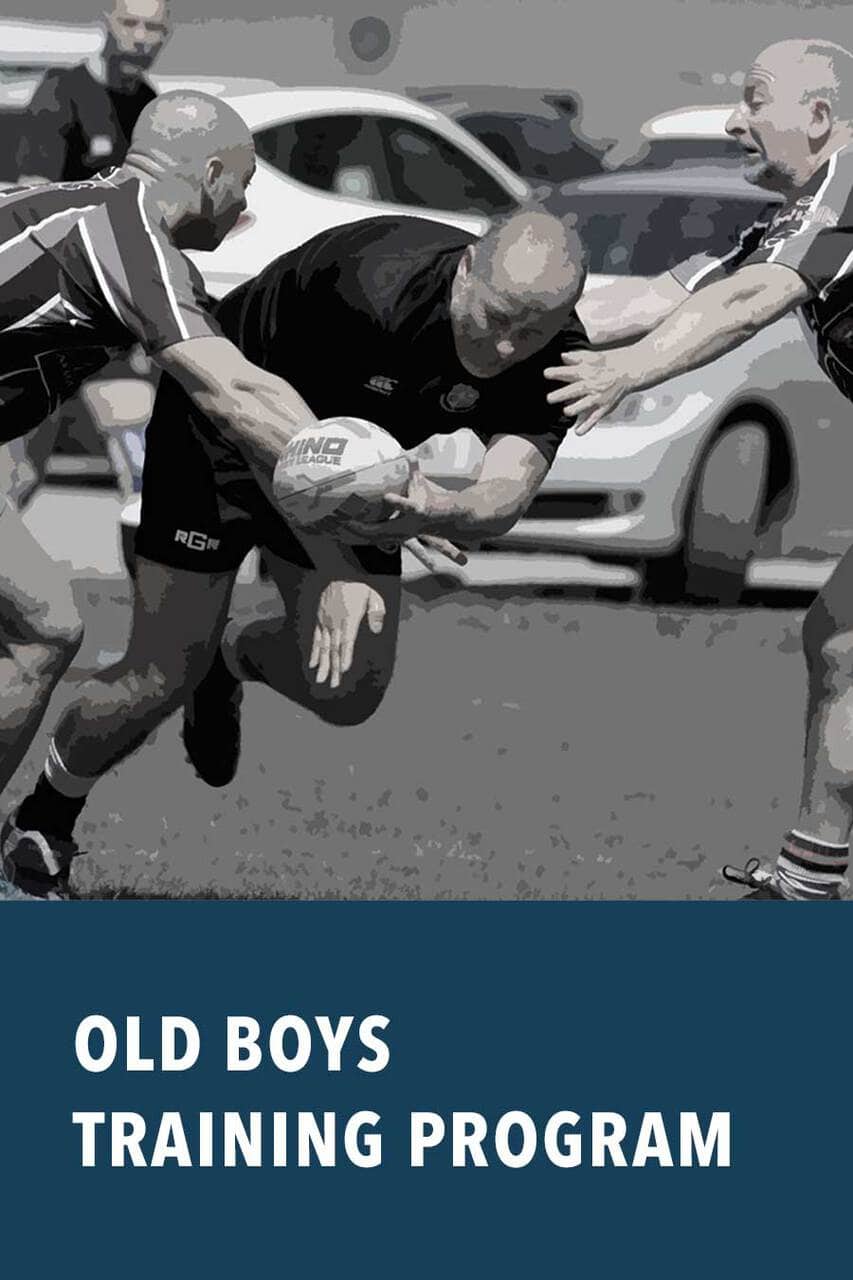 OLD BOYS
RUGBY TRAINING PROGRAM
Imagine being able to transplant your old boy rugby brain into a younger, fitter body; while you might never recapture your physical glory years, you should be able to wind the clock back enough to give those youngsters a run for their money!
Don't delay, start implementing this information today! The sooner you start trying to turn back the clock, the sooner you'll be able to show those younger players that there is life in the old dog yet!
There is no getting away from the fact that rugby is a tough sport. Playing and training for rugby takes a lot out of your body. Most ruggers are aware of this and are more than happy to put up with the aches, pains, cuts, and bruises that are an inescapable part of the game we love. Almost everyone who puts on a rugby jersey will, at some point in their career, end up injured.
Of course, we hope your rugby injuries will be rare and minor but, being a rugger, you'll probably rest just long enough to heal, and then you'll be back on the pitch, putting your body on the line for your team.
Rugby is hard on everybody's body, but, with age, injuries often take longer to heal, and their effects tend to be cumulative. That is to say that all those knocks start to add up. It's usually easy to spot an old boy (or girl) rugby player in a crowd; they'll be the one limping!
So, does being an old boy mean you should hang up your rugby boots for good just because you've got a few old aches and pains? Not necessarily. For starters, veteran ruggers bring a lot of experience to their teams. They've been in the trenches for so long that skills that are new to younger players are hardwired into their nervous systems. Older players are a valuable wealth of rugby information. Yes, you could turn to coaching, but if you can still lead by example, why not do so?
In addition, there is a lot you can do to prolong your rugby playing career. You don't have to let old father time put you on the sidelines just yet. Yes, you WILL need to modify your training, and may even have to change the way you play, but rugby is a game of brain as much as brawn, and a smarter approach to training and playing could keep you on the field for many more years.
Imagine being able to transplant your old boy rugby brain into a younger, fitter body; while you might never recapture your physical glory years, you should be able to wind the clock back enough to give those youngsters a run for their money!
Of course, if you have suffered serious injuries in the past, you may need to do the smart thing and make the switch to touch rugby or take up coaching. As fulfilling as rugby is, no one should purposely risk their long-term health for sport. If playing rugby could cause you lasting harm, it really is time to retire. But, if you are beaten up but otherwise healthy, putting the information in this e-book could add years to your rugby career.
Don't delay, start implementing this information today! The sooner you start trying to turn back the clock, the sooner you'll be able to show those younger players that there is life in the old dog yet!
Rugby is a sport built around running. From jogging back to a scrum to sprinting to score a try, rugby players can clock up as much as 10k/6 miles of running per game. Because of this, most ruggers do a lot of running as part of their training. Unfortunately, and especially for old boy ruggers, running can be very damaging.
When you run, your feet hit the ground with about eight-times the force of your body's weight. That's a lot of force. But, if you are a built like an outhouse rugger who tips the scales at 100kg/225 lbs., that's enough force to cause serious pain.
There are precautions you can take to make running easier on your aging body. Good ways to make running less painful include:
Wear supportive, cushioned running shoes, changing them every three months as they soon lose their shock absorbency.
Run on trails, sand, or grass and avoid pounding tarmac and pavement.
Learn to run with proper technique, including keeping your footfalls as light and quiet as possible.
Focus on running quality and less on running quantity – most ruggers don't need to run more than 6.5km/4 miles a couple of times per week.
Lose some weight. Ruggers need to be big and strong, but there is a difference between functional muscle mass and non-functional body fat. If you have more of a beer barrel belly than a six-pack, lean out to take stress off your joints.
If you can run without pain, there is no need to stop. However, consider implementing these tips to make sure you aren't doing yourself irreparable harm.
If even a short run leaves your feet, ankles, knees, hips, or back feeling like they are made of hot, ground glass, it's time to drop running and use some alternative forms of training. The good news is that you can maintain and even improve both your aerobic and anaerobic fitness without running a single step.
Of course, you'll still need to run during rugby practices and games – that's unavoidable. But, if you cut running from your general fitness training, this should not present too much of a problem. So, what should you do instead of running? Let's break down some of the tried-and-tested aerobic and anaerobic running alternatives.
Ruggers make good rowers. Some of the best indoor and water rowers started out as ruggers, and a lot of top-flight ruggers do a lot of rowing for fitness. This makes perfect sense because rowing offers a lot of benefits for ruggers.
Those benefits include:
Low impact – the biggest drawback of running is the amount of impact on your lower body. Rowing is not just low impact, it's no impact, so it's much easier on your joints.
Easy to learn – you should be able to master basic rowing technique in just one or two sessions. Once you've got it, you'll never forget it.
Versatile – you can use rowing to develop your aerobic and anaerobic fitness. Increasing the workload is easy; just pull harder and faster.
Uses a lot of muscle mass – rowing is virtually a full-body activity. It's as good for your upper body as it is your legs. Rugby is a full-body activity too, so rowing is clearly an excellent sport-specific type of training.
You can replicate running workouts on a rowing machine – if your current workout plan calls for a three-mile run, you can row three miles in about the same time and using the same amount of energy. There is no need to create new programs. Just swap running miles for rowing miles on a 1:1 ratio.
Rowing machines are less popular than treadmills – if you do your cardio at a gym, you'll probably find that the rowing machines are usually free. Rowing machines are often undervalued and underused. That's good news for ruggers who should have no issue securing and hogging a rowing machine for even a long workout.
Here are a few rugby-focused rowing workouts to try:
5,000 meters steady pace row – just hop on and row for as long as it takes to cover 5,000 meters (about three miles).
500-meter repeats – row 500 meters as fast as you can, rest for two minutes by rowing slowly and repeat four more times to total five reps. Useful for developing anaerobic fitness.
Descending distance, increasing speed intervals – row 2000 meters at a moderate pace, rest two minutes, row 1500 meters slightly faster, rest 1.5 minutes, row 1000 meters faster still, rest 60 seconds, and then row 500 meters as quickly as possible.
Reverse Tabatas – row as fast as you can for 10 seconds, rest for 20 seconds, and then repeat seven more times to total eight reps. This is a good workout for ATP/CP anaerobic fitness.
Fartlek – choose a distance or time, e.g., 4,000 meters or 20 minutes, and then row at a variety of speeds over a range of distances until the clock runs down. Mix your speeds and distances as randomly as you can.
While you can use gym cardio machines like exercise bikes, cross trainers, steppers, and ellipticals for cardio, they are not as rugby-specific as rowing. If your gym or rugby club doesn't have a rower, petition them to buy one or buy one yourself and install it in your basement or garage. It's a good investment in your future rugby playing career.
Like rowing, swimming is a non-impact, full-body cardio workout that is tailor-made for ruggers. The water supports your body weight, and the low temperature can help ease your aches and pains by lowering inflammation. As an added benefit, swimming is also great for upper body flexibility and mobility – something that most aging ruggers need more of.
Of course, to get a good workout from swimming, you need to be a good swimmer. If you aren't a proficient swimmer, do yourself a favor and get some lessons. After a couple of months, you should be able to swim well enough to do a lot if not all of your cardio training in the swimming pool.
You don't have to limit yourself to swimming laps while staring at the bottom of the pool either; swimming is great for interval training, and you can also jump out at the end of the pool and do bodyweight exercise to create a water-based circuit workout. Things like pull-buoy floats, fins, and hand paddles can also add an extra dimension to your swimming workouts.
Still not sold on swimming? No worries! How about deep water running? There are two interpretations of deep water running. In one form, you wear a bouncy aid, paddle out into deep water, and then pump your arms and legs without touching the bottom with your feet. Your head should stay above the water throughout, and you can do aerobic and anaerobic workouts in this fashion.
Alternatively, stand in waist to chest-deep water and walk/run against the resistance offered by the wet stuff. The water will support a lot of your weight, but you'll still be touching the bottom. Both are great options for aging ruggers for whom "real" running causes more trouble than it's worth.
Rucking in rugby is not the same as rucking for fitness. Fitness rucking involves strapping on a rucksack and going for a hike, ideally over rough, hilly terrain. Rucking with an appropriately laden backpack will elevate your heart and breathing rate as much as running, but with much less strain on your joints. If your training schedule called for a four-mile run, two miles of rucking will take roughly the same amount of time, producing similar results, but should be easier to tolerate.
How much weight should you load into your pack? Start off with about 10-15% of your body weight and increase up to around 20-30% when you feel ready. Like any new training method, don't do too much too soon. Gradual increases are the key to long-term progression and pain-free workouts.
If you prefer, you can use a weighted vest instead of a rucksack. Be warned though, most weighted vests only go about 20kg/45 lbs. and you may soon outgrow that weight. They also make you look like you are wearing body armor…!
Whether you're training for greater anaerobic or aerobic fitness or want to increase your speed, intervals and sprinting should be part of your rugby training. Interval training does not need to involve running, and you can simply transpose your chosen work to rest ratios onto your preferred cardio alternative.
For example, if your regular running-based interval training session calls for 30 seconds of intense work followed by 90 seconds of active recovery, you can replicate that workout using a rower, elliptical, or exercise bike and get the exact same fitness-boosting benefits. You could even hit a tire with a sledgehammer or punch a heavy bag – anything that increases your heart and breathing rate will get the job done.
Sprinting is a little harder to avoid. Sprinting is an integral part of rugby, and while you don't need to sprint for fitness, you do need to sprint for speed and power. The good news is that, when it comes to sprinting, quality is more important than quantity and you can get great results with less stress from something called sprint interval training or SIT.
With SIT, you sprint as usual but then take 2-4 minutes between efforts, so you recover fully and limit yourself to 4-6 sprints per workout. Providing you work at 100% intensity, this will trigger fitness improvements that are comparable to more labor-intensive interval training workouts and will also increase aerobic fitness, speed, and power. Needless to say, shorter workouts that involve fewer repetitions put less stress on your body than longer, more repetitive workouts.
Rugby is undeniably a sport that involves a lot of running, but that doesn't mean you have to run to be rugby fit. Cardio training in the form of rowing, swimming and rucking will transfer nicely to your rugby fitness and performance, while putting less strain on your already-battered body. Running in rugby is unavoidable, but that doesn't mean you need to do lots of running during training.
Strength and power are cornerstones of rugby fitness. These muscular fitness components are crucial for successful rugby and are what separate ruggers from soccer players! While players who are naturally strong and powerful are drawn to playing rugby, these aspects of muscular fitness need to be nurtured and trained.
Unfortunately, because these are high load and high-intensity activities, training for strength and power can be a problem for older ruggers.
Aging joints, scar tissue leftover from old injuries, and rugby and age-related posture problems, combined with a depleted recovery ability, can mean that gym workouts leave a lot of older ruggers with even more aches and pains. Ruggers are, by their nature, highly competitive, and that really comes out in the gym. Older ruggers will often try and match younger ruggers (and the younger version of themselves too) workout for workout, and rep per rep.
Unfortunately, this is a battle that even the savviest older rugger will lose. Not because of any lack of commitment but simply because time takes its toll on even the most robust, strongest bodies.
Strength and power training do not need to stop just because you are no longer in your 20s or 30s. In fact, it's actually more important as you age. While you might not increase your strength and power by much at all at this stage of your training career, you should be able to maintain and then slow its decline.
The good news is that, because of the muscle memory phenomenon, you don't need to eat, sleep, and breathe strength and power training to maintain your performance. In fact, trying to do too much will probably have the opposite effect.
Instead of marathon-length gym workouts, you need to focus on workout quality and not quantity or duration. Get in, train smart, get out, and rest. Do that, and you'll find that gym workouts put more energy into your body than they take out.
Here are 15 rules for making strength training more productive for old boys:
1. Avoid strength training two days in a row – older bodies need more recovery than younger bodies. Take this into account when choosing or designing your strength and power workouts. A day on, day off schedule is best for older ruggers, and you may only need two gym sessions per week, e.g., Monday and Thursday.
2. Forget your 1RM; it's no longer relevant – most ruggers have a good idea of their one-repetition maximum for lifts like squats, bench presses, and power cleans. While these numbers might give you pub bragging rights, they are no longer relevant when you start getting a bit longer on the tooth.
Don't try to beat your 1RM. And don't use them to choose your training weights, i.e., 70% of 1RM. Try to forget all about repetition maxes but, if you can't, establish things like your 5RM, 8RM, or 10RM – all of which will be less stressful than going for a 1RM.
3. Slow-tempo training is a joint saver – heavy weights are only one way to overload your muscles. While effective, heavy loads can take a toll on your already hard-worked joints. Instead of overloading your joints with more weight, try training with a slower tempo. Slower tempo training makes even light weights feel heavy, but is much easier on your hips, back, elbows, shoulders, and knees.
4. Ramp up to warm-up – warming up is even more important for older ruggers. One of the best ways to warm-up for strength and power training is ramping. With ramping, you do several sets using a gradually progressive weight to prepare your muscles and joints for your work sets.
For example, if your workout calls for three sets of eight with 80kg, your ramped warm-up sets would look like this:
20 reps 20kg/45 lbs. (empty barbell)
8 reps 35kg/77 1⁄2 lbs.
8 reps 50kg/110 lbs.
8 reps 70kg/155 lbs.
8 reps 80kg/175 lbs. (first work set)
These ramped sets provide you some useful training volume plus they allow you to judge how you feel and how recovered you are. If the ramped sets feel hard, you may want to adjust your work sets for the day.
5. Limit yourself to 2-3 work sets per exercise – you don't need to five sets of an exercise for it to be beneficial. In fact, doing set after set will just take a toll on your joints and delay recovery. Your energy is a valuable commodity, so spend it wisely. If you feel like you need to do more than three sets of any exercise, you are either not working hard enough or are resting too long between sets.
Apply this same rule to the number of exercises in your workout and per muscle group. You don't need to do more than 2-3 exercises per muscle group and, in many cases, 1-2 is all you need. Remember, quality is better than quantity.
6. Weak links first – a lot of gym and rugby-related injuries are caused by muscular weak links. Core, hamstrings, and rotator cuffs are the most usual suspects. Don't relegate these crucial areas to the end of your workout, where you may forget them or just run out of time and energy to do them. Instead, do them first. If you turn your weak links into strong links, your chances of getting injured will be much lower.
7. 60 minutes or less per session – you can train hard, or you can train long, but you can't do both. If your workout takes more than 60 minutes, you must be wasting either a lot of time or energy. If you cut out the unnecessary sets and exercises, you should have no problem, keeping your workout to an hour or less. Less training means more recovery.
8. Pick your new big three – for many ruggers, squats, bench presses, and deadlifts are workout mainstays. Unfortunately, all three are also hard on your joints, mainly because they allow you to lift a lot of weight.
You don't need to quit these exercises, but it may be worth picking a new big three that are less damaging. How about Bulgarian split squats, single-arm floor presses, and hip thrusts? These exercises work the same muscles as the original big three but are much less stressful.
9. Don't forget to de-load – while younger players can train hard for months without end, older players cannot. Give your body a break by enjoying a de-load every 4-6 weeks. Don't skip training entirely during this time. Instead, just do a week of easier workouts. Don't worry about losing performance; you'll actually come back stronger.
10. Try accommodating resistance – using bands and chains take stress off your joints where there are most susceptible to injury, i.e., the bottom of each repetition. In contrast, they increase the load where your joints are stronger and usually more comfortable, i.e., at the end of the rep. You can use bands and chains with most barbell exercises, but they are especially useful for squats, deadlifts, and bench press.
11. Make the switch to single-limb exercises – bilateral (two limbed) exercises allow you to lift a lot of weight, and therein lies the problem. If your joints are showing signs of wear and tear, weight is not your friend. Unilateral (single limb) exercises naturally limit the amount of weight you can safely lift. They are also useful for balance, your core, and coordination. Try and replace at least a few of your regular exercises with their unilateral equivalents. Your joints will thank you.
12. Adjust your range of motion to reflect your flexibility and injuries – we'll cover flexibility shortly but, even if you work on this critical fitness component, age and scar tissue plus joint calcification may mean that some exercises are painful when you do them with the accepted range of motion, e.g., lowering the bar to your chest during bench presses, squatting to parallel, or deadlifting from the floor.
Avoid making existing problems worse by reducing your range of motion to reflect your flexibility. For example, floor presses and board presses mean you don't have to lower the bar to your chest in bench presses and deadlifting from blocks will save your lower back and hamstrings from the stress and strain of lifting from the floor.
Some lifters may view these adaptations as cheating, but given a choice between a shorter range of motion and not training because of injury, smart ruggers will adopt the former to avoid the latter.
13. Use isometrics – if your joints are really banged up, isometrics can help maintain strength and muscle mass while putting minimal stress on your joints. With isometrics, you lift and then hold a weight at a predetermined joint angle for time rather than raising and lowering it for reps. For example, with leg extensions, straighten your legs and then hold that position until you are no longer able to continue. That's one set; rest a moment and then repeat.
The main disadvantage of isometrics is that they only increase your strength at 15 degrees on either side of the position you hold. This is easily remedied by adjusting your joint angle set by set.
14. Embrace training variety – doing the same exercises over and over is a good way to hasten joint pain. Doing the same movements increases joint wear and tear. Avoid this problem by using a variety of exercises that share similar movement patterns. Rotate your choice of exercise weekly, e.g.:
Week 1 – barbell back squats
Week 2 – goblet squats
Week 3 – Zercher squats
Week 4 – front squats
Week 5 – barbell back squats etc.
This will avoid movement pattern overload; the exercises are similar enough to maintain progress from one week to the next but also dissimilar enough to give your joints a break.
15. Use the instinctive training principle to guide your workouts – don't be a slave to your workout. As an older rugger, there will be days where you feel fit and full of energy, and other days when you could be an extra on the Walking Dead TV show. Don't ignore these fluctuations in energy and force yourself to complete a hard workout when you are having an off day.
Listen to your body and adapt your workouts according to how you feel. If you aren't feeling your best, reduce the duration or intensity of your workout and leave some gas in the tank for another time. It's better to withdraw and come back when you are feeling good than punishing yourself with a hard workout that leaves you down.
A lot of the info above cannot be applied to power and plyometric training. After all, how can you do an isometric power clean or a slow tempo vertical jump?! However, power training and plyometrics still need modification to ensure that they produce favorable results and minimal injuries. Apply the following guidelines to your power and plyometric workouts and also use any of the strength training guidelines that you deem appropriate.
1. Reduce impact wherever possible – most plyometric exercises involve a lot of impact. After all, plyos are jumping exercises, and what goes up must come back down again! Avoid impact whenever you can by jumping onto something and then stepping down instead of jumping over it or jumping down too. For example, replace squat jumps and hops with box jumps and hops. You can apply this same methodology to plyo push-ups.
2. Try deep water plyos – doing plyos in water might sound crazy, but it can be a real joint saver. It won't take anything away from the amount of force you need to produce, but it will eliminate all of the landing impact. Squat jumps in chest-high water are an awesome high-intensity but reduced impact power exercise.
3. Low reps sets are best – we tried to steer you away from 1RMs for strength, but single, double, and triple-rep sets are best for older rugger power training. Low rep sets mean you can focus on quality, and your set will end long before you start to accumulate fatigue and joint stress. For example, instead of doing three sets of 8 box jumps, try doing 8 sets of three reps.
4. Replace the Olympic lifts with compensatory acceleration training – the Oly lifts are great for power, but not so good for your joints, even if you use the simplified versions of these exercises. Replace things like cleans and snatches with compensatory acceleration training, CAT for short. With CAT, you select a regular barbell/dumbbell exercise and then turn it into a power exercise.
Simply lower the weight as usual but then, at the bottom of each rep, try to turn the downward movement into an upward movement as quickly as you can. Accelerate the weight away from you as hard and as fast as you can and then repeat. As with all power exercises, focus on quality – 2-3 sets of 3-6 reps should be sufficient.
5. Understand that strength increases power – if, despite these interventions, you still find power exercises leave you feeling battered and sore, just drop them from your schedule. Remember, strength training also has a significant effect on muscular power. If you can lift heavy weights slowly, by definition, you'll be able to lift lighter weights faster. You might lose a little power by not doing power-specific training in your workouts, but that's a small price to pay if it means you can keep on playing.
If you want to stay strong for rugby, you need to pay your dues in the gym. However, like rugby, strength and power training can also take a lot out of your body. That doesn't mean you should skip these crucial forms of training, but you should be prepared to modify them to reflect your senior status. It's not enough to train hard, you also need to train smart if you want to prolong your rugby playing career.
4. RECOVERY, FLEXIBILITY, & MOBILITY
As an older rugger, your body probably has a lot of miles on the odometer. Training for and playing rugby have taken their toll. The aging process is hard enough, but you have chosen to at least partially accelerate that process by exposing your muscles and joints to stresses that can leave you feeling old before your time. You've probably had a lot of fun doing it too!
If you want to keep playing, you need to start paying more attention to the holy trinity of injury prevention – recovery, flexibility, and mobility.
To keep your car, truck, or motorbike on the road, you need to service it regularly. This preventative maintenance will stop a lot of mechanical problems before they start. Breakdowns will still happen, but at least you've taken some reasonable precautions.
Paying more attention to recovery, flexibility, and mobility is the equivalent of servicing your motor vehicle. It should prevent a lot of the problems that could otherwise cut your rugby career short. Your rugby body is like a high-mileage car, and you can keep it running if you look after it properly.
The older you get, the more playing and training for rugby will take out of you. You'll need more time between training sessions and games to restore your energy levels and get over the small but unavoidable injuries that go hand in hand with rugby. Younger players recover faster and can often go from a hard match to an equally hard training session with no ill-effects. Older ruggers are not so lucky and need to pay more attention to the recovery process.
Here are seven strategies for faster, more complete recovery:
1. Cool down properly
Whether you just finished a game or a training session, the recovery process should start with a cool down. Spend a few minutes doing some light cardio, such as walking or jogging, and then stretch all of the muscles you've just been using as well as any others that feel tight. Flexibility is covered in the next section.
2. Post-activity meal
To recover properly after exercise, your body needs nutrients. It needs carbohydrates to restock your depleted glycogen stores and amino acids to repair muscle damage. If you don't supply it with these nutrients, your recovery will be slow at best, and non-existent at worse. To facilitate rapid recovery, your body is especially receptive to nutrients in the hours after exercise. Like a dried-out sponge, it will soak up almost anything you eat so that restocking and repair can happen as fast as possible.
This "window of opportunity" is greatest immediately after exercise and starts to narrow over the next few hours.
To make the most of this you should:
Consume a fast-acting protein and carb drink within 15 minutes of finishing training
Eat a substantial carb and protein-rich meal within 1-2 hours of exercise
This makes the most of the increased insulin sensitivity caused by training.
3. Contrast temperature therapy
Contrast temperature therapy consists of alternating hot and cold treatments using different temperature showers, baths, or even the use of a sauna and cold plunge pool. Where cold causes vasoconstriction (the reduction in circumference of blood vessels), heat causes vasodilation, which is the opposite.
This combination of events creates a sort of pumping effect which helps eliminate waste products while increasing blood circulation at a cellular level, speeding up the recovery process.
To use contrast therapy yourself, alternate hot and cold baths or showers for one minute at a time. This is ideally done immediately after you have completed your cool down. Repeat three to five times and then shower/bathe as normal. While you might not have control over the exact temperature, just switching between very hot and very cold shower settings will still be beneficial.
To speed up recovery locally, such as in a particular area where muscle soreness is more severe, use a cold pack and a heat pack and place them alternately on the muscle(s) most affected. Make sure, however, to put a cloth between the packs and your skin to avoid burns and make sure the packs are neither too hot nor too cold.
4. Cryotherapy
Cryotherapy describes a range of treatments designed to lower tissue temperature. Cold and ice have been utilized for a very long time to reduce swelling, inflammation, and pain and to hasten recovery from exertion and injury.
Cold causes vasoconstriction, which is the narrowing of blood vessels. This decreases blood and oxygen flow to the muscles and drives out blood and metabolic waste products – specifically lactic acid. When you remove the source of cold, the blood vessels open up again, which results in a flood of freshly oxygenated blood into the area, enhancing recovery. This influx of blood helps to flush away more lactic acid.
Ice also acts as a natural pain killer. This may be useful after a really tough workout. Nerves carry information from your skin and muscles to your brain. That information can be pain, temperature, texture, or even the position of your limbs. Nerves aren't great at carrying multiple types of information at the same item so, if you expose them to cold, the pain messages are blocked. This is called the pain gate theory.
As well as increasing circulation and reducing inflammation and pain, studies have revealed that cryotherapy could lower post-exercise cortisol levels, a catabolic hormone produced during times of stress. Conversely, anabolic hormone levels, specifically testosterone and DHEA, increase. Decreased cortisol and elevated testosterone and DHEA is the perfect environment for faster recovery.
Cryotherapy is, however, far from relaxing or enjoyable and is something most people who use it dread! There are several different protocols available to use. Options are:
Full body immersion in a bath full of cold water and ice
Lower body immersion in a trash can full of cold water and ice
A cryotherapy chamber
Massage using a block of ice
Immersion in a cold river, lake, or the sea
Ice packs placed on specific areas of the body, e.g., the thighs or lower back.
5. Compression Clothing
Compression clothing is popular in the fitness world. Worn for warmth, support, and injury prevention, research suggests that compression clothing may also enhance recovery after exercise.
Wearing compression garments is believed to improve recovery by limiting post-workout inflammation. This is achieved by preventing fluid accumulation in and around muscle tissue so that recovery is less likely to be impeded.
Compression clothing increases tissue temperature, which ease aches and pains and increases mobility and flexibility while reducing the onset of muscle soreness.
Unlike cryotherapy, massage, stretching, and other more active forms of recovery enhancement, compression clothing should be used continuously during the post-workout period. This means you'll need to get used to the idea of wearing compression clothing while you sleep. Other studies suggest that the best results require wearing compression clothing for 72 hours.
For compression clothing to be useful, it needs to be tight enough to do the job but not so tight that it is uncomfortable or cuts off circulation. You'll also need several sets of clothing, so you can change as necessary.
The main advantage of using compression clothing for recovery is you can wear it as you carry out your regular recovery plan. It will enhance whatever else you choose to do and further speed up the post-workout recovery processes. If you already own compression clothing, this is a straightforward strategy to implement.
6. Supplements
Supplements can play a role in enhancing post-exercise recovery. There are many supplements to choose from, but the best items for recovery include:
Whey protein – exercise is a catabolic activity, which means it causes muscle breakdown. Repairing this damage requires protein. Whey protein is rapidly digested, so it gives your muscles what they need as soon as possible. Because it is mixed with water, it is easy to consume immediately after your workout and any other time that solid food may be inconvenient.
Branch chain amino acids – the branch chain amino acids (BCAAs) are leucine, isoleucine, and valine and make up 70% of muscle tissue. These amino acids are heavily catabolized during intense activities like strength training. Consuming BCAAs immediately and during the days after a tough workout will help your muscles recover faster. They may also reduce the severity and duration of delayed onset muscle soreness.
Glutamine – glutamine is the most abundant amino acid in the body and as such, performs several vital functions including growth, repair, and recovery of muscle mass. Glutamine also plays a vital role in the replenishment of glycogen stores.
Fish Oils – fish oils, from the omega-three fatty acid group, are naturally anti-inflammatory and can help reduce post-workout muscle and joint pain. The regular supplementation of fish oils can also improve heart and brain functionality.
Creatine – creatine is a very popular, well-researched, and cheap supplement that plays a vital role in the production of energy within your muscles. Supplementation with creatine can increase your energy reserves and enhance recovery. Add five grams of creatine to your post-workout carb and protein drink to kick start recovery.
7. Sleep
Sleep is arguably the most important thing you need for recovery. Most exercisers need at least seven hours of sleep per night, and older ruggers would do well to shoot for eight hours. Life often makes getting enough sleep hard to achieve. Use these tips to help you get the most from your zzzs.
Set a bedtime and stick to it – it's probably been many years since you had a bedtime, but if you want to make sure you get enough sleep, it's time to introduce one again. Having a set bedtime gets your body into the habit of going to sleep at a particular time each and every night.
Work back from the time you have to get up and go to bed at whatever time means you get the recommended 7-9 hours of sleep. Factor in a little extra time of you like to read before going to sleep or have any other pre-sleep ritual.
Develop a pre-sleep ritual – in the same way that your warm-up prepares your muscles and joints for a workout, a pre-sleep ritual is designed to get you ready to get a good night's sleep. Doing the same thing over and over primes your body for sleep – it's like a trigger. Create a pre-sleep ritual and then stick to it.
For example:
9pm – turn off the TV, make a warm drink, lock the doors and windows, and head upstairs
9.10pm – have a warm shower, clean your teeth, and dress for bed
9.30pm – set your alarm, dim the lights, turn off your phone, get into bed, and read a book until you start to feel drowsy
9.45pm – turn off the lights and sleep the sleep of the innocent!
Get a comfortable bed and pillows – how much did your car cost? $5,000? $10,000? How much did your bed cost? Probably a lot less! But which do you spend the most time in? The answer is most likely your bed.
A good nights' sleep starts with a supremely comfortable bed. Even the slightest discomfort will interfere with a restful night.
Good quality beds and pillows are not cheap, but, in terms of your health, they are vital. If your car cost ten times more than your bed, it's time to reconsider your financial priorities and buy a bed that enhances rather than disrupts your sleep. If an entirely new bed is out of the question, consider upgrading your pillows, purchasing a new mattress, or at least getting something like a memory foam mattress topper.
Create a sleep sanctuary – your bedroom should be a room set aside expressly for sleep. It should not double as an office or a TV room. If your bedroom contains any form of distraction, invariably your night of restful sleep will be disrupted.
Some sleep experts believe that the low-level radiation and radio signals produced by electrical devices such as mobile phones, TVs, and tablets can interfere with sleep, even if they aren't in use.
Also, who can resist checking their social media or emails right before going to sleep? Those bright screens disrupt something called the circadian rhythm, which is how your body regulates its sleep/wake cycles. Watching TV in bed is also a bad idea; if you find the show you are watching is stimulating in any way, you will perk up at precisely the time you should be relaxing.
To that end, you should make your bedroom a sleep sanctuary. Fit dimmer switches or use bedside lamps to lower the lights, adjust the temperature so that it is conducive to sleep, remove any electronic devices to avoid distraction, and fit blackout curtains to prevent light pollution.
Consume slow-acting carbs and protein before bed – contrary to popular belief, eating before bed won't make you fat. Providing you are within your calorie allowance for the day, it really doesn't matter that much when you eat.
Eating 30 minutes or so before bed can help you sleep more soundly. Not only will you avoid any midnight hunger pangs that might have otherwise woken you up, but your blood glucose levels will also be more stable too. Stable blood glucose levels help to keep your brain happy, and a happy brain is more likely to sleep well.
Eating certain foods also increases serotonin and tryptophan, which are substances closely linked to relaxation and sleep.
Good foods include:
Walnuts
Almonds
Cottage cheese
Warm milk
Chamomile, ginger, and peppermint teas
Kiwi fruit
Tart cherry juice
Turkey
To fuel muscle recovery and improve sleep, consume a slow-acting source of carbohydrate, some protein, and a little natural fat.
Avoid caffeine and alcohol – caffeine is a powerful stimulant. If you drink a lot of coffee, tea, or cola, you might have become somewhat accustomed to its stimulating effect and be tempted to drink caffeinated beverages too close to bedtime.
However, just because caffeine no longer gives you the jitters does not mean it won't interfere with a good night's sleep. If nothing else, its diuretic effect could mean you end up having to go to the bathroom several times when you should be sleeping.
Also, consider the caffeine content in any fat burners or pre-workout supplements you are taking; avoid using them too close to bedtime. Seek out stimulant-free products if you are concerned about the effect of caffeine on your sleep.
Stop drinking caffeinated beverages around 3-4 hours before bedtime and, also, don't use alcohol as a sleep aid. Alcohol can put you to sleep, but it disrupts the normal flow of your sleep cycles. You might sleep the whole night though but could still wake up feeling tired, not to mention dehydrated.
Flexibility often declines with age. The is doubly-true for ruggers because an accumulation of scar tissue and old injuries can leave your muscles knotted and resistant to stretching. Unfortunately, lack of flexibility can increase your risk of injury – both chronic and acute – while you may have been able to pay stretching nothing but a little lip-service in your youth, it needs much more attention now you older.
To avoid becoming as stiff as a board, all senior ruggers should commit to stretching regularly. Not just after training, as part of your cool down, but daily. The less stretching you have done in the past, the more stretching you need to do now.
You know if your flexibility is not as good as it should be. If you can't bend down and touch the floor without rounding your back, your hamstrings are tight. Be honest with yourself about your flexibility and start stretching regularly to restore it. In yoga circles they often say that "flexibility is youth" and if you are a long in the tooth rugger, you'll find that regaining lost flexibility will take years off your body.
The best stretching for fixing poor flexibility is static developmental stretching. Static developmental stretches are held for 30 or more seconds, and the depth of the stretch is increased gradually as your muscles relax. As rugby is a full-body activity, you need to stretch all your major muscles. Prepare your muscles for stretching by performing some light cardio to increase your core temperature and boost blood flow to your muscles.
When you stretch a muscle, you reach the natural end of your muscle's elasticity – called the point of bind or POB for short. If you stay at the POB for 15 seconds or so, you will feel your muscles relax slightly, and you should then be able to move into a deeper stretch. This happens more readily if you a) relax mentally as well as physically and b) do not hold your breath.
Continue extending the POB until you reach your real end of range. Once you are there, hold for a further 15 to 30 seconds to maximize your flexibility training. To recap:
Move into POB and hold for 10-15 seconds
As you feel your muscles relax, move a little deeper to new POB
Keep your body relaxed and breath steadily
Repeat steps one to three a couple more times until you reach your true flexibility limit
Hold this final position for 15 to 30 seconds
Slowly ease out of the stretch
As with all types of stretching, do not force the stretch and if you feel any burning
or shaking back off and use a less extreme POB.
To save you inventing your own stretching plan, here's one for you to follow.
1. Standing calf stretch
Stand an arms' length from a wall and place your hands against it at shoulder level
Take a large step back with one leg and bend the other
Check that your rear foot is pointing directly forwards
With your heel on the floor, slide your foot back until you feel a stretch in your calf
Ease out of the stretch and then change legs
2. Standing quad stretch
Stand with your feet together
Bend one leg and grasp your foot in the same side hand. Use your other hand for balance
Point your bent knee down at the floor, push your hips slightly forwards and pull your foot into your butt
Try to keep your knees level and together at all times
3. Kneeling hip flexor stretch
Take a large step forward and then bend your back leg so that your rear knee is resting on the floor
Position your front leg so that your shin is vertical
With your torso upright, slide your rear foot back until you feel a stretch in thetop/front of your hip
Keep your body upright to maximize the effect of this exercise
4. Seated hamstring stretch
Sit on an exercise bench with your legs bent and feet flat on the floor
Extend one leg out in front so that your knee is straight, and your heel is resting on
the floor. Place your hands on your BENT knee
Keeping your chest up, hinge forwards from your hips until you feel a hamstring stretch – avoid rounding your lower back
5. Seated adductor stretch
Sit on the floor, bend your legs, and place the soles of your feet together
Sit up tall and shuffle your feet in towards your groin
Rest your elbows on your knees and grasp your ankles
Use your elbows to gently push your knees down and out towards the floor
If you're unable to keep your torso upright, sit on a cushion
6. Supine glute stretch
Lie on your back with your legs straight and your head resting on the floor
Bend one leg and reach down to grasp behind and above your knee
Keeping your upper body on the floor, gently pull your knee towards your chest
Do not be tempted to lift your head towards your knee – it may seem you are stretching further but, in fact, the additional movement is coming from rounding your back
7. Supine oblique stretch
Lie on your back with your legs straight, and your arms extended, so you form a T shape
Bend one leg and place your foot flat on the floor
Reach across and place your opposite hand on your knee
Pull your knee over and rotate your lower body while keeping your other arm outstretched and your shoulders flat on the ground
Hold this position and allow the weight of your leg, combined with pulling on your knee with your arm, to pull you into a deeper stretch
8. Prone cobra abs stretch
Lie on your front with your hands under your shoulders
Keeping your hips on the floor, push with your arms and raise your upper body off the floor
Push up to the point just before your hips leave the ground
You can either stay in this position for an extended period or lower and then repeat for a more dynamic movement. If you want/need to spend an extended time in this position, consider resting on your elbows
9. Hanging lat stretch
Grab an overhand bar with a shoulder-width overhand grip
With arms extended, hang from the bar with your feet clear of the ground – bend your knees as necessary
In addition to stretching your lats, this exercise also decompresses your spine – great after a challenging game of rugby!
10. Doorway pec stretch
Position yourself in an open doorway. Raise your arms and rest your elbows and forearms against the vertical sides. Your elbows should be roughly level with your shoulders
Adopt a staggered stance for stability
Keeping your elbows and forearms pressed against the door frame, lean your body between your arms until you feel a stretch across your chest
11. Standing upper trap stretch
Stand with your feet hip-width apart and your knees slightly bent
Reach up and place one hand on the top of your head and the opposite hand behind your butt to keep your shoulder down and back
Gently pull your head over to the side to stretch the side of your neck – the lateral aspect of your upper trapezius
Turn your head slightly in each direction to identify any "hot spots." If you find any areas that feel especially tight, spend a few extra seconds on them before changing sides and repeating the exercise
This exercise can also be performed seated – grasp the underside of your chair to keep your shoulder down
12. "Prayer" forearm stretch
Seated or standing, place the palms of your hands together in front of your chest in the classic "prayer" position
With your thumbs touching the center of your chest, slide your hands down your front while ensuring that the heels and palms of your hands stay pressed together
Lift your elbows upwards to maximize the effect of this stretch
Mobility and flexibility are often confused but, where they do overlap, they are also different. Where flexibility pertains to muscles, mobility pertains to joints. While flexibility can affect mobility, mobility is mainly the result of joint health and integrity.
A joint is a union of two bones. The end of each bone is covered in a smooth, tough substance called hyaline or articular cartilage. The joint capsule is lubricated and nourished with synovial fluid. A long rugby career can leave your hyaline cartilage roughened and damaged, and age can lead to a decrease in synovial fluid production.
Synovial fluid is produced on demand. That's why, after a warm-up, your joints usually move more freely and with less pain. However, if you want to keep your joints working and feeling good all the time, you need to maximize synovial fluid production not only during workouts but between workouts too.
Mobility exercises are simple movements that take your joints through a gradually increasing range of motion to increase synovial fluid production. Doing mobility exercises daily will ensure your joints get more of the lubricating, nourishing synovial fluid they need.
The good news is that these exercises are easy and don't require special equipment. You can (and should) do them at home every day to keep your joints in tip-top condition.
Work through this list of movements but omit any that are excessively difficult or cause you pain.
1. Seated ankle rotations
Sit with one leg extended in front of you, so your foot is clear of the ground. Make big circles with your foot in both directions and then perform the same exercise with your opposite ankle.
2. Seated leg extensions
With your legs bent and feet flat on the floor, extend and bend one leg to mobilize your knee joint. Repeat the exercise for the same number of repetitions on the opposite leg.
3. Shallow knee bends
Stand with your feet slightly wider than hip-width apart and your hands by your sides. Push your hips back and descend into a quarter-depth squat.
4. Step overs
Imagine you are standing sideways on to a knee-high barrier. Step sideways and over the imaginary barrier and then step back over again. Pick your knees up and over the barrier but try not to lean forwards from your waist.
5. Leg Swings
Stand side-on by a wall and rest your hand on it for balance. Swing your inside leg forward and backward. Keep the leg loose and gradually increase the height of the swing as you feel able. On completion, change legs and repeat. Once you feel proficient, perform this exercise without the additional support of a wall.
6. Squat, crouch, and stand
Stand with your feet wider than shoulder-width apart. Lift your chest, push your hips back and squat down until your hips are just below the level of your knees. Stay in this crouched position for three to five seconds and then stand up. Make sure you push your knees outwards using the muscles on the outside of your thighs to give yourself room to squat deeply. Try not to let your lower back become rounded.
7. Side bends
Stand with your feet shoulder-width apart and hands by your sides. Bend laterally and slide your hand down the outside of your thigh as far as comfortable. Return to the center and then bend to the other side. Keep your shoulders squared – no twisting at the waist.
8. Waist twist
In a standing position, keeping your arms relaxed, rotate your upper body while keeping your arms loose. Your arms should gently swing around and touch your back. Swing in the opposite direction and then continue swinging for the desired number of repetitions. This is a variation of a tai chi exercise which is said to stimulate your internal organs.
9. Shoulder shrugs
With your hands by your sides and arms straight, shrug your shoulders and pull them up as high towards your ears as you can. Do not drop your head forwards to lessen the distance! Lower your shoulders and then repeat. If you want to, feel free to roll your shoulders forward and backward too.
10. Yay and nay!
Lower your head, tuck your chin into your chest and then look up towards the ceiling. Do not force this movement as the neck is a complex and relatively fragile structure. On completion, turn your head from left to right and try to look back over your shoulders.
11. Push and pull
Stand with your arms raised and hands at ear-level with your palms forwards. Raise your arms towards the ceiling and lower them back down. Keep your shoulders pulled back and chest up. Next, raise your arms to shoulder level, so your hands are turned palms-down. Reach forward as though you are performing a press-up and then pull back. Alternate overhead push / pulls with horizontal push / pulls for the desired # of reps.
12. Shoulder, elbow and wrist waves
Interlace your fingers and raise your arms to shoulder-level. Raise one elbow and make a wave down your arm that passes through your wrists and down to your opposite arm. Send the wave straight back and repeat. Don't be surprised if the wave travels more easily in one direction than the other. This becomes easier with practice!
So, how many repetitions of each exercise should you perform? The answer to that question is: it depends. Do as many as you need to do for your joints to feel well lubricated and loose. Some of the exercises are slightly more strenuous than others, so don't feel you have to do the same number of each movement.
Russian texts on joint mobility (the incidence of osteoarthritis in Russia was much lower than in the 'decadent West') suggest you build up to performing one repetition per year of age so a 45-year-old rugger would complete 45 reps of each movement.
In many ways, this makes perfect sense – the older your joints, the more they will benefit from mobility exercises. Strive to increase the number of repetitions you perform but only as your body comfortably allows. As with all forms of exercise, patience is a virtue, and you should make haste slowly.
Recovery, flexibility, and mobility might seem like "soft" topics, especially if your previous training was all about working hard. But, as an old boy, they are the cornerstones of your ongoing playing career. If you want to continue playing, you must learn to put back into your body what rugby takes out.
As an old boy, cookie-cutter training programs are not ideal. Age, and playing, injury, and training history will all affect which modifications you need to make to your workouts. For example, if your knees are shot, you may want to make changes to your cardio and lower body workouts but can still train your upper body like a young buck.
Because, of this, we've produced two example programs you can use for inspiration in your own program design. Of course, you are free to follow these workouts as they are presented but don't feel you have to. Use them as a framework and then make modifications based on your specific old boy knees.
In addition, make sure you use the adaptations outlined elsewhere in this guide to modify your workouts according to your needs. For example, if full squats aggravate your knees, you can do box squats, slow-tempo squats, or paused squats to crank up the intensity without punishing your joints.
Here are two programs – one for pre-season, and one for post-season.
| Monday | Tuesday | Wednesday | Thursday | Friday | Saturday | Sunday |
| --- | --- | --- | --- | --- | --- | --- |
| Cardio | Strength Training 1 | Rest | Team Practice | Rest & Rehab | Strength Training 2 | Rest |
Cardio
Cardio is important for your general health and fitness. You'll be doing plenty of running and sprinting in your team practice so for this workout you should avoid impact and give your joints a break. This workout should predominately be aerobic in nature because the remaining workouts of the week are anaerobic. Rotate exercise modalities and training methods to avoid pattern overload. For example:
| | | |
| --- | --- | --- |
| Week 1 | Swimming | 30-minutes Fartlek |
| Week 2 | Rowing | 5 x 4-min intervals, 2-min recovery |
| Week 3 | Rucking | 60 mins steady-pace |
| Week 4 | Rowing | 5x Time Trial |
Strength Training
After years of gym training, most older ruggers are about as strong as they need to be, and also as strong as they're going to get. There is no real need to spend hour after hour in the gym pumping iron. Instead, strength training should focus on maintaining muscle mass without overloading your joints or over-stretching your ability to recover. Two modified whole-body gym workouts per week should be sufficient.
This means each workout should focus on compound exercises and workout quality – just a few main exercises and work sets should suffice.
As with the cardio program, key exercises and intensity levels should be rotated to avoid pattern overload and unnecessary joint wear and tear. For example:
Workout One
Week/Exercise
Reps
Sets
Recovery
1
1. Barbell Squats
2. Goblet Squats
3. Front Squats
4. Zercher Squats
6
12
8
10
3
2
3
2
2 mins
60 sec
2 mins
90 sec
2
1. Barbell bench press
2. Dumbbell bench press
3. Floor press
4. Close grip bench press
12
8
10
6
2
3
2
3
60 sec
2 mins
90 sec
2 mins
3
1. Single arm DB rows
2. Cable rows
3. Chest supported rows
4. Body rows

12
10
12
10
3
3
3
3
60 sec
90 sec
60 sec
90 sec
4
Box Jumps
8
3
90 sec
5
Stability Ball Plank
30 sec
3
60 sec
6
Tricep Pushdowns
12
2
60 sec
7
Dumbell Curls
12
2
60 sec
Workout One
Week/Exercise
Reps
Sets
Recovery
1
1. Barbell deadlift
2. Rack pulls
3. Deadlift with bands/chains
4. Romanian deadlift
6
12
8
10
3
2
3
2
2 mins
60 sec
2 mins
90 sec
2
1. Dumbbell shoulder press
2. Barbell shoulder press
3. Alternating shoulder press
4. Single arm dumbbell press

12
8
10
6
2
3
2
3
60 sec
2 mins
90 sec
2 mins
3
1. Single arm DB rows
2. Cable rows
3. Chest supported rows
4. Body rows

12
10
12
10
3
3
3
3
60 sec
90 sec
60 sec
90 sec
4
1. Bulgarian split squats
2. Lunges
3. Step ups
4. Reverse lunges
10
12
10
12
3
3
3
3
90 sec
60 sec
90 sec
60 sec
5
Cable wood chop
12
3
60 sec
6
Skull crushers
10
2
60 sec
7
Barbell curls
10
2
60 sec
Rest and rehab
This workout is freeform and should include whatever you feel you need to work on to keep your old-boy rugger body on the field. At the least, you should do a few minutes of light cardio followed by stretching and mobility exercises. Set aside 30 minutes for this session but don't feel you need to do a whole lot more. The idea is to enhance recovery, and not tire yourself out.
Good options include:
Cryotherapy
Massage
Foam rolling
Stretching/mobility exercises
Go for a walk
For more rest and recovery day ideas, check out these programs:
| Monday | Tuesday | Wednesday | Thursday | Friday | Saturday | Sunday |
| --- | --- | --- | --- | --- | --- | --- |
| Cardio | Rest & Rehab | Rest | Team Practice | Rest & Rehab | Strength Training | Rest |
Cardio
Cardio is important for your general health and fitness. You'll be doing plenty of running and sprinting in your team practice so for this workout you should avoid impact and give your joints a break. This workout should predominately be aerobic in nature because the remaining workouts of the week are anaerobic. Rotate exercise modalities and training methods to avoid pattern overload. For example:
| | | |
| --- | --- | --- |
| Week 1 | Deepwater Running | 6 x 3-mins intervals, 2 mins recovery |
| Week 2 | Rowing | Descending distance, increasing speed intervals |
| Week 3 | Rucking | 60 mins steady-pace |
| Week 4 | Swimming | 30 mins Fartlek |
Strength Training
After years of gym training, most older ruggers are about as strong as they need to be, and also as strong as they're going to get. There is no real need to spend hour after hour in the gym pumping iron. Instead, strength training should focus on maintaining muscle mass without overloading your joints or over-stretching your ability to recover. Two modified whole-body gym workouts per week should be sufficient.
This means each workout should focus on compound exercises and workout quality – just a few main exercises and work sets should suffice.
As with the cardio program, key exercises and intensity levels should be rotated to avoid pattern overload and unnecessary joint wear and tear. For example:
Workout One
Week/Exercise
Reps
Sets
Recovery
1
1. Front squats
2. Zercher squats
3. Back squats
4. Goblet squats
6
12
8
10
3
2
3
2
2 mins
60 sec
2 mins
90 sec
2
1. Barbell bench press
2. Dumbbell bench press
3. Floor press
4. Close grip bench press
12
8
10
6
2
3
2
3
60 sec
2 mins
90 sec
2 mins
3
1. Hip thrusts
2. 45-degree back extensions
3. Leg curls
4. Romanian deadlifts
12
10
12
10
3
3
3
3
60 sec
90 sec
60 sec
90 sec
4
1. Dumbbell shoulder press
2. Barbell shoulder press
3. Single arm shoulder press
4. Alternating shoulder press
10
8
12
6
2
3
2
3
90 sec
2 mins
90 sec
2 mins
5
1. Pull-ups
2. Lat pull-downs
3. Chin-ups
4. Single arm lat pull-downs

AMRAP
12
AMRAP
10
3
2
3
2
2 mins
60 sec
2 mins
90 sec
6
Pallof press
12
2
60 sec
Rest and rehab
This workout is freeform and should include whatever you feel you need to work on to keep your old-boy rugger body on the field.
Good options include:
Cryotherapy
Massage
Foam rolling
Stretching/mobility exercises
Go for a walk
As an older rugger, you've earned the right to use the instinctive training principle and adjust your workouts according to how you feel on the day. If you are feeling less-than-stellar, dial back on your training intensity and volume. There is no need to be a slave to your program.
However, it is not a good idea to embrace the instinctive training principle to such a degree that you don't know what workout you are going to do on any given day. You still need to adhere to the other principles of training to ensure your workouts are productive, i.e. progression, recovery, and specificity.
Avoid wasting your valuable time and energy on unproductive workouts. Use the old boy training modifications outlined in the previous chapters and these examples to plan your workouts in advance.
6. TIPS FOR EXTENDING YOUR RUGBY CAREER
We've covered a lot of ground in this manual, discussing cardio training, strength and power training, and recovery, flexibility, and mobility too. But there are still plenty of additional things you can do that will help prolong your rugby training career.
This chapter contains a host of tried-and-tested information that may keep you in the game longer. They aren't in any particular order so jump in, wade through, and apply whatever tips and hacks apply best to you.
1. Neoprene knee and elbow sleeves for more comfortable joints
Calcified, stiff joints often lack synovial fluid, the stuff that keeps them mobile and moving smoothly. Neoprene knee and elbow sleeves will keep your joints warm, increasing synovial fluid in the process. In addition, they increase kinesthetic awareness and provide a small but welcome degree of support. Make neoprene knee and elbow sleeves part of your workout wardrobe.
2. Use a collagen supplement
Collagen helps maintain the integrity of your cartilage, which is the rubber-like tissue that forms and protects your joints. As the amount of collagen in your body decreases as you get older, your risk of developing degenerative joint disorders such as osteoarthritis increases. Taking collagen supplements has been shown to reduce inflammation and stimulate collagen synthesis in the body. This may help promote pain relief for hard- charging senior ruggers. Take between 8-12 grams daily.
3. Make and consume bone broth
Not a supplement fan? Don't worry – you can get collagen from bone broth. You can buy readymade bone broth, but it's so easy to make you might as well do it yourself.
Simply take a kilo/two pounds of any type of raw bones and put them in a slow cooker. Add four tablespoons of apple cider vinegar to speed up mineral extraction and 5-10 grams of gelatin powder.
Cover the bones with water and then cook on low for 24-36 hours. Keep the liquid and discard the softened bones or give them to your dog. Portion out and freeze the liquid. Use as stock in cooking.
4. Put out inflammation with fish oil and turmeric
Aches and pains are inevitable, but you should avoid treating them with high and prolonged doses of anti-inflammatory medicines such as ibuprofen. Instead, treat inflammation naturally with fish oil and turmeric or, more specifically, curcumin, which is the active ingredient in this golden spice.
5. Protect your joints with MSM, glucosamine, and chondroitin
MSM, glucosamine, and chondroitin make for a fine joint care cocktail. Available individually and together, these supplements are said to promote cartilage health and regeneration. Stack with fish oil and turmeric for best results.
6. Boost your testosterone levels naturally
Muscle mass and strength tends to decline with age, and in men, that's due mainly to a decline in testosterone production. If you want to stay strong and avoid muscle loss, you need to hit the gym regularly. Increasing your testosterone levels naturally will also help. Safe, proven testosterone boosters include:
D-aspartic acid
Vitamin D
Tribulus terrestris
Fenugreek
Ginger
Zinc
Magnesium
Maca
Ashwagandha
7. Get more sleep
Getting more sleep is one of the most anabolic things you can do for your body. When you sleep, your body goes into repair and recovery mode, increasing your production of human growth hormone and testosterone in the process.
The older you get, the more sleep you need to recover from playing and training for rugby. Make sure you strive for 7-9 hours of sleep per night. Not just at weekends but during the week too.
Can't sleep? Consider using melatonin for a few weeks to reset your circadian rhythm and reestablish regular sleep habits.
8. Accept you need longer to recover
The expression "the mind is willing, but the body is weak" seems to have been tailor-made for older ruggers. You might still be able to play hard and train harder, but you WILL need longer to recover after matches and workouts. The sooner you accept this, the happier and healthier you'll be. If you are fit, healthy, and train sensibly, your performance should not decline too much as you age. But it will take longer to recover from games, training, illness, and injury.
Make sure you take this fact into consideration when planning your workouts and your playing schedule. For example, don't plan a big training session for the day after a game. You might have been able to do that in years past, but for older ruggers, that's a recipe for pain.
As another saying goes, you can't burn a candle from both ends, so if you push your body hard, you need to recover harder. Make sure you review the previous chapter for recovery-boosting strategies.
9. Clean up your diet
As a younger player, you probably did fine on a diet of beer and pizza. That is one of the joys of youth! Unfortunately, youthful energy and indestructibility don't last forever. As you age, your body will start to break down more quickly, and your energy levels will drop if you don't provide your body with the proper fuel.
Older ruggers need to pay attention not just to training and recovery, but to their diet too. You don't need to give up the food you love, but you do need to make sure that you cover all your nutritional bases by eating plenty of natural foods, vegetables, fruits, and healthy fat. Also, make sure you are consuming adequate protein, which is vital for proper muscle growth and repair. Shoot for around one gram per pound or two grams per kilo of lean bodyweight.
Don't turn eating healthily into a religion but do make sure that, 80% of the time, the food you eat provides you with more than just a source of energy – think about nutrient density too.
10. Do more of the stuff you know you are bad at
We all have types of training or exercises we don't like, and that we are probably bad at. In many cases, we're bad at stuff that we don't like because we don't do it. Unfortunately, the things we are bad at are usually the things we need more of.
Hate stretching? That's probably because you are as stiff as a board, and therefore you need to stretch. Hate cardio? It's probably because you are woefully unfit and need to do more of it.
Think about the exercises and types of training you like the least and commit to doing them more often. Turn your weak links into strong links. Start your workout with whatever you need to work on and consider ending your workout with that same thing – a strategy called bookending. Alternatively, try "greasing the groove" where you work on whatever you want to improve little and often. For example, spend a minute or two stretching one muscle group several times each day.
11. More core strength
Your core is the center of your physical strength and power. It really doesn't matter how strong your arms and legs are, how flexible you are, or fit or fast you are, if your core is weak, you are an injury waiting to happen. Not only that, you won't be able to perform at your best.
Old-school ruggers often boast about how in "their day" all they did for their abs was weighted sit-ups and hanging leg raises. Maybe that's why so many of them end up retiring early? A strong core will protect your back from injury and also ensure you can efficiently transfer force from your legs to your arms and vice versa.
Bracing exercises are generally best, as they replicate the demands your core is exposed to during rugby. Suitcase deadlifts, single-arm farmer's and waiter's walks, planks, hill climbers, and Pallof presses are all excellent core exercise choices that are also easy on your spine.
12. Have fun with rugby and stop when it isn't
Unless you are a professional rugger, you probably play this crazy sport of ours because you enjoy it and it's fun. It provides you with a competitive outlet, has given you a great social life, gave you a reason to get and stay fit, and may have even provided you with opportunities to travel.
What a great sport!
But, if you are an aging rugger, there may come a day when the fun stops and the aches and pains outweigh the thrill of playing or training for what is arguably one of the toughest sports around.
Don't flog the proverbial dead horse by continuing to play rugby if you no longer enjoy it. Instead, get out while the getting is good. It's better to leave on a high than on a low. You don't have to quit the sport; with all your playing experience, you'll probably be a welcome addition to the coaching staff, or you could become a referee.
You don't have to take the aging process laying down, and there is no need to give in gracefully! However, if you want to keep playing rugby long after when most athletes have packed up and gone home, you'll need to make some adjustments to your workouts and even your lifestyle. But, in return, you'll be one of many "gray heads" that still enjoy playing rugby and help keep those lippy youngsters on their toes!
Rugby is often viewed as a young players' sport, but that doesn't have to be the case. While there is no way to stop the aging process, there is a lot you can do to slow it down so that you can continue playing rugby into your late 30s, 40s, and even your 50s. You might even play into your 90s, like Roy Easton, currently the world's oldest rugby player.
The good news is that you won't have to train more than you have in your youthful past. In fact, you'll probably need to train less, and the training you do will need to be smarter and not harder. You will, however, have to make a new commitment to things like recovery, sleep, flexibility, and mobility.
You may also have to give up some of your favorite exercises in the gym and change your workouts too, but that's the price you have to pay if you want to continue being a terror on the rugby pitch. Don't let past workout performances affect your training mindset and program design – look at the big picture and think of the future.
There will come a point where rugby is no longer the sport for you – at least at the level you are currently playing it. However, that doesn't mean you have to give up rugby. Touch rugby is increasing popular and walking rugby is a good option for senior players. You could always try your hand at coaching or refereeing.
Your rugby prime might be fast approaching, or even behind you, but you don't have to go down quietly! If you want to keep playing, make sure you adapt your workouts to respect your advancing age, and you could extend your playing career by a few years!