Ryan Whitaker's Dislocated Ankle
My injury occurred on September 2nd in the afternoon. It was the second week of our 15's season and we were firing on all cylinders. In our season opener we handily beat a young University of Southern Indiana team and had a good D1-A Purdue team in our sights for week 2. We traveled to Fishers Indiana high school for a jamboree where our A side would play Purdue and our B side would take on the A side of an up and coming IUPUI team.
Background
Our A side came together and beat Purdue where we were able to get a lot of freshman and new players into the game. After a short break our B side began preparations for the game against IUPUI. The field we were playing on was a turf football field that had already claimed two of my teammates to minor ankle injuries during the previous game.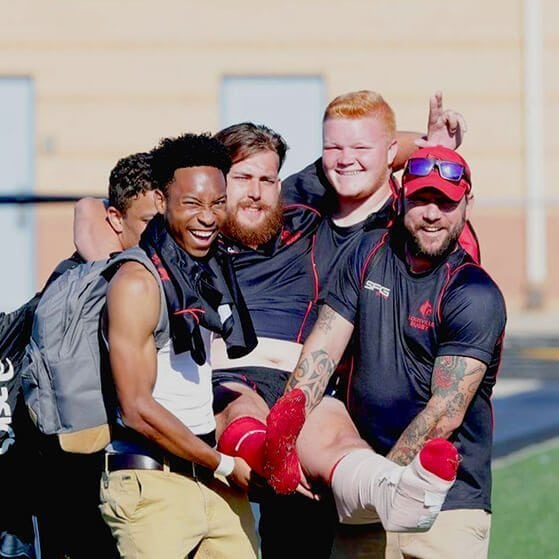 RYAN WHITAKER
Position: Lock
Club: U of Louisville Rugby
Injury: Dislocated Ankle
Injury
In the second half of the game I was injured as I was securing a ruck. It happened so fast I'm not 100% what happened but to the best of my knowledge my foot was planted on the ground and someone was pushed or dove into the ruck, hitting my leg. As I fell I dislocated my ankle, shattering my fibula mid calf and tearing several ligaments in my ankle. The official did not immediately see me on the ground and play continued while the trainer rushed out to help me. He was able to secure my foot and put me into a splint until I could go to the ER.
Emergency
After the game ended I was had to be carried off the field by my teammates and coach. I have never felt closer to my brothers and second dad(coach) as I did that day. You are nothing in life without a family you can lean on when you're in need. Our team mom, my coach's wife, drove me three hours back to Louisville to the ER and waited with me until my family arrived. While in the ER they performed X-Rays and re splinted my leg. Shortly after leaving the ER I had to return over symptoms of compartment syndrome. Thankfully this was not the case and I was able to return home.
Surgery
My injury required me to have corrective surgery to correct the jumble of bone and ligaments that was previously my ankle. Six days post injury I went in for surgery, the procedure took approximately 3 hours and was successful. I was able to comfortably rest at home until the next day when the nerve block wore off. My pain levels were uncontrolled and I had to be admitted into the hospital the next day, where they I stayed over the weekend until I was discharged on Monday.
Recovery
As I write this it has been thirteen days since my surgery and my recovery is right on track. I will not be able to put weight on my leg for another eight weeks, but as soon as I can physical therapy I'll be working my way back to the pitch!
By Ryan Whitaker